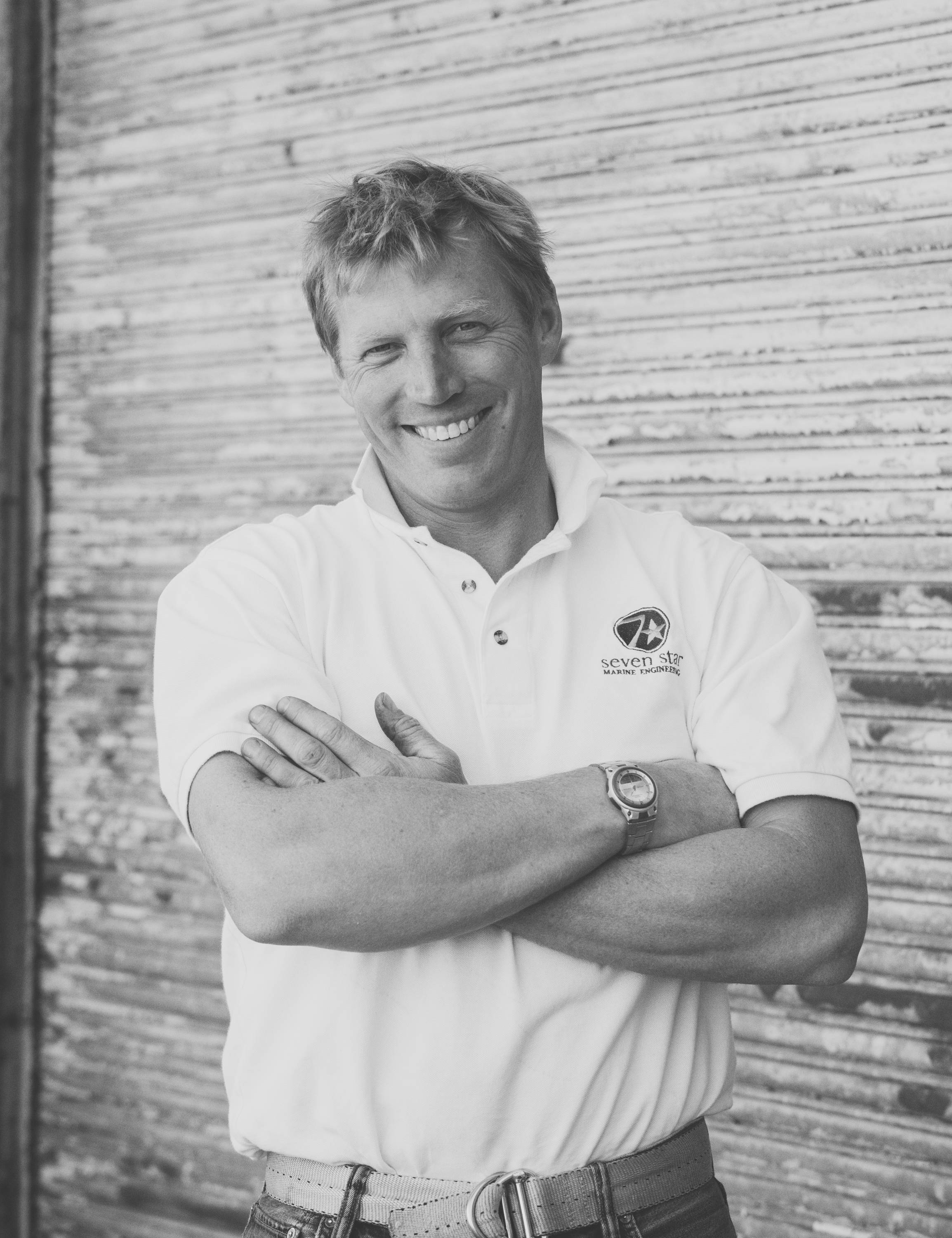 Teak Ackman grew up working on the waters of Narragansett Bay, in his family's business, Oldport Marine. Dedicated to Newport's working waterfront, Teak brings a tradition of maritime trades and a passion for small marine business to Seven Star Marine Engineering. Teak is a graduate from Worcester Polytechnic Institute with a Bachelor of Science in Mechanical Engineering. His talent lies in his dedication to his customers, his eye for a pleasing aesthetic and his attention to detail. Seven Star Marine Engineering was incorporated by Teak Ackman in 2006 and has been his passion and focus since. teak@sevenstarmarine.net  
Jesse born and raised in Newport, RI – Jesse grew up sailing the waters of Newport Harbor and Narragansett Bay. His first job was working alongside Seven Star Marine's very own Teak manning launches for Oldport Marine. In his late teens and early twenties, Jesse delved into the world of competitive sailing with W-Class and TP52 Interlodge, traveling throughout the Caribbean and Mediterranean. Ready to settle down and fuel his creative aspirations, Jesse paved his own way into the realm of machining. Jesse is trained as a CNC machinist and has developed skills for machine programming along with an eye for detail. Jesse has a fundamental aptitude for creating and working with his hands that was sparked early in life. He brings the skills of a precision machinist along with an understanding the unique needs of machined components for the yachting industry. In his free time Jesse enjoys hanging with his dog "Tug" and tinkering with motorcycles and gear of all descriptions. His current project involves raising his kid.                                 jesse.r@sevenstarmarine.net
"Working with Seven Star Marine is always a plus. They are very proficient in working with our clientele, which is mostly made up of power and sailing superyachts. These customers come with huge demands and high expectations of the folks that work onboard and Seven Star Marine has no problem meeting them. Extremely professional, great communication and superior knowledge allows them to serve all of our customers hydraulic and mechanical needs. We are very lucky to have them!!!"
Jay Mulrooney (Yard Manager, Newport Shipyard)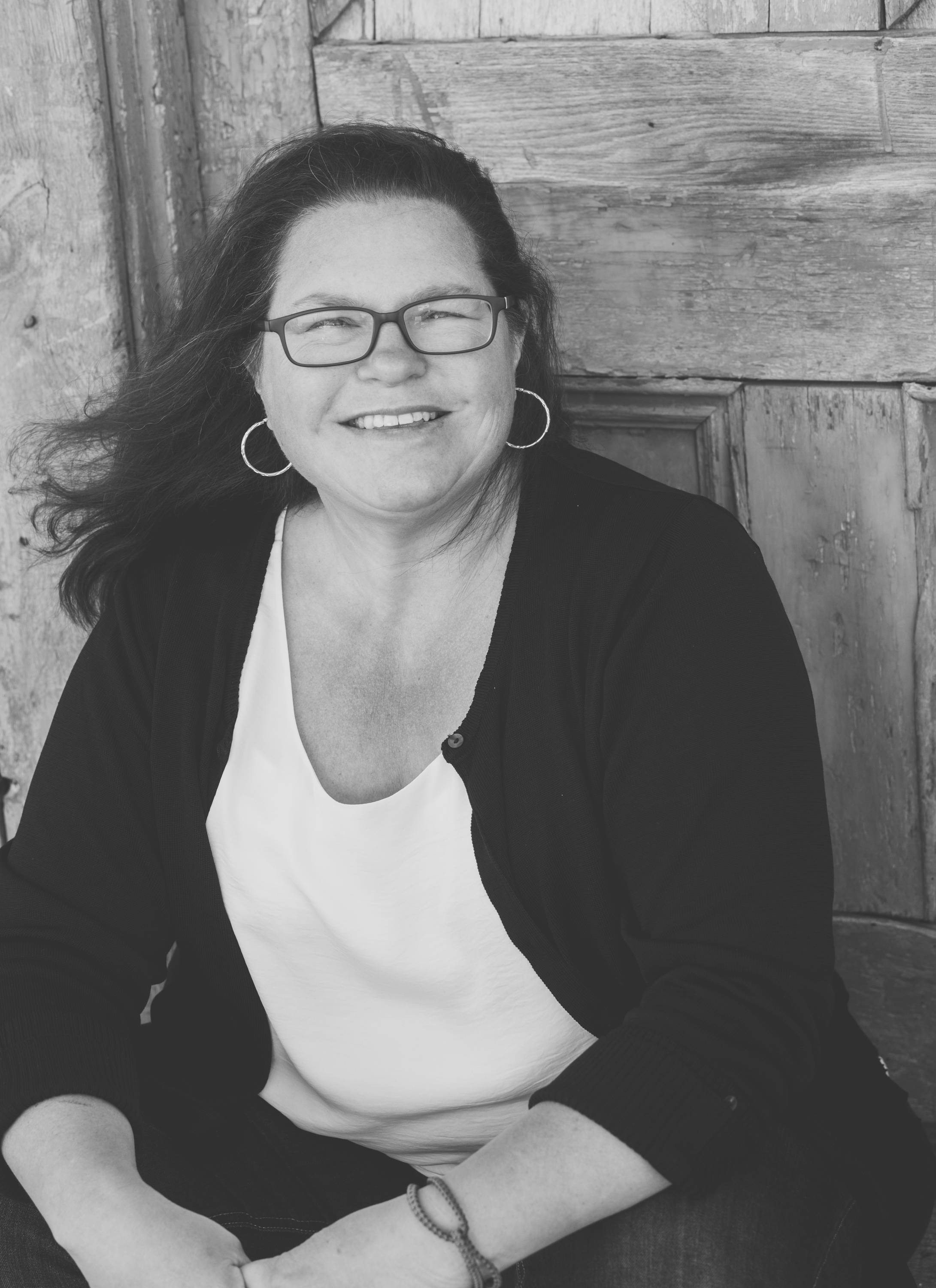 Sue hailing from Lancaster County, PA, Sue became enchanted by Newport's seaside charm during family vacations with her cousins - the Ackmans. Her love for the area grew as she spent her college summers working alongside the Ackman family at Oldport Marine. After university, Sue became an established member of the Newport community teaching mathematics at the local high school. As her family grew, Sue switched career paths from teaching to bookkeeping in order to accommodate her change in priorities. Sue has been bookkeeping at Seven Star Marine for the past thirteen years. In her spare time she enjoys painting, sewing, walking and spending time with her two children and husband. sue.k@sevenstarmarine
Leo began working in the maritime trades, teaching sailing in Boston Harbor. This inspired him to apprentice as a shipwright at the Samples Shipyard in Boothbay Harbor Maine. He then worked for ten years restoring large traditionally built wooden vessels in Maine, Massachusetts and Rhode Island. Leo joined Seven Star's team in 2016 since which time he has focused his training and work on marine hydraulic systems. He is a member of the Fluid Power Society and trained in industrial hydraulics by Rexroth Bosch Canada as well as trained in tube bending by Swagelok. His casual Friday attire has blown the minds of the Newport, RI yachting scene. Despite his devilish good looks, he's not afraid to get a little strategically placed grease on his mug. When he's not at work Leo enjoys bicycling and spending time with his saintly chihuahua, Tiki. leo.b@sevenstarmarine.net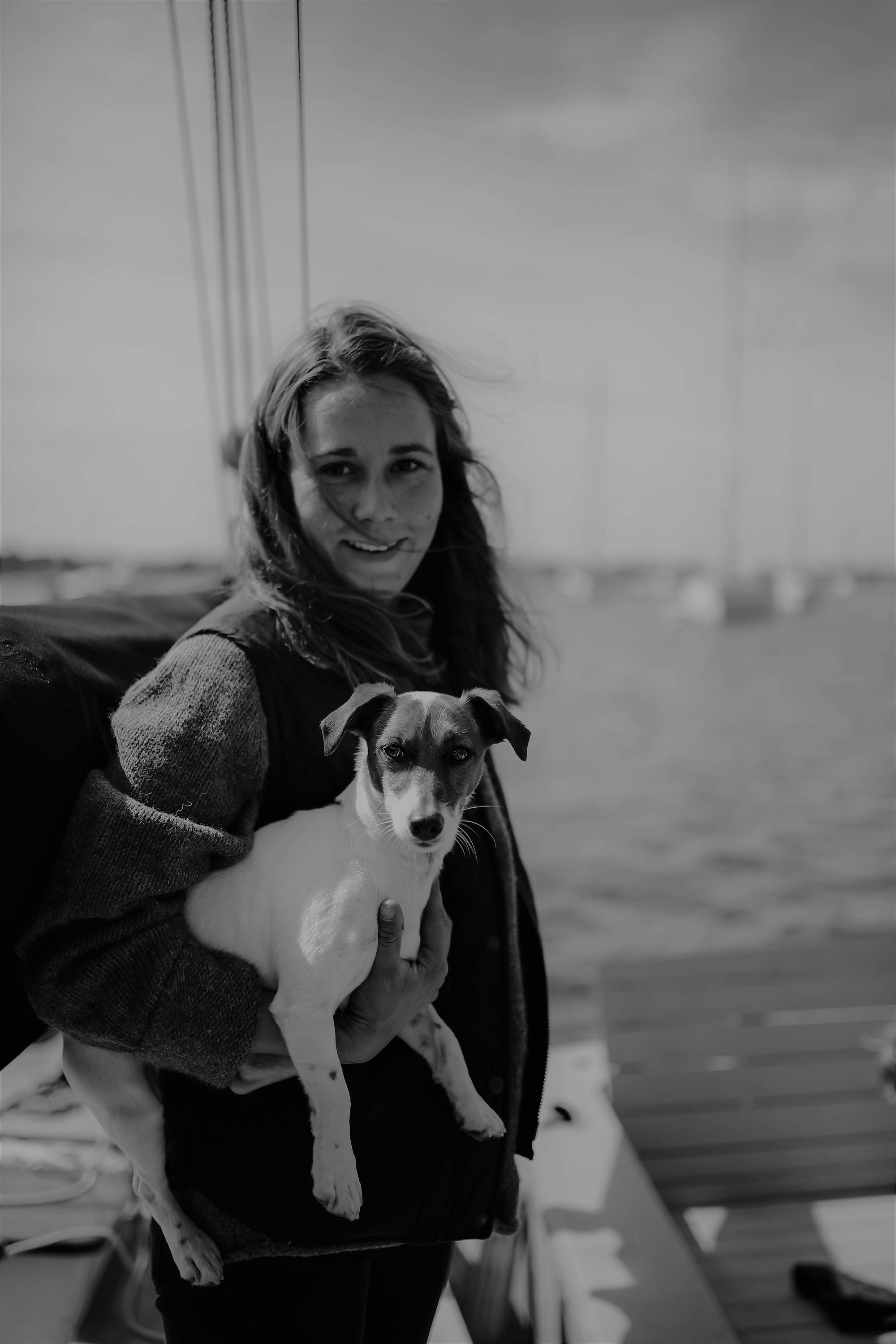 Zoe originally from the east coast of Nova Scotia, Canada her passion for sailing and working in the maritime trades began early as her family spent their time building, restoring, and sailing wooden boats at home and in the family business, Covey Island Boatworks. After studying marine technology at New England Institute of Technology, Zoe spent her early adult life working on sailing yachts around the globe. Since moving ashore she has completed a masters degree program and is back to working in maritime trades and family business. When she's not in the office, she's out riding bikes or messing around on boats with Teak and their four children. zoe@sevenstarmarine.net
Freya shop dog since 2015, a boat dog at heart, she spends her days working at Seven Star Marine and her weekends navigating the waters of Narragansett Bay.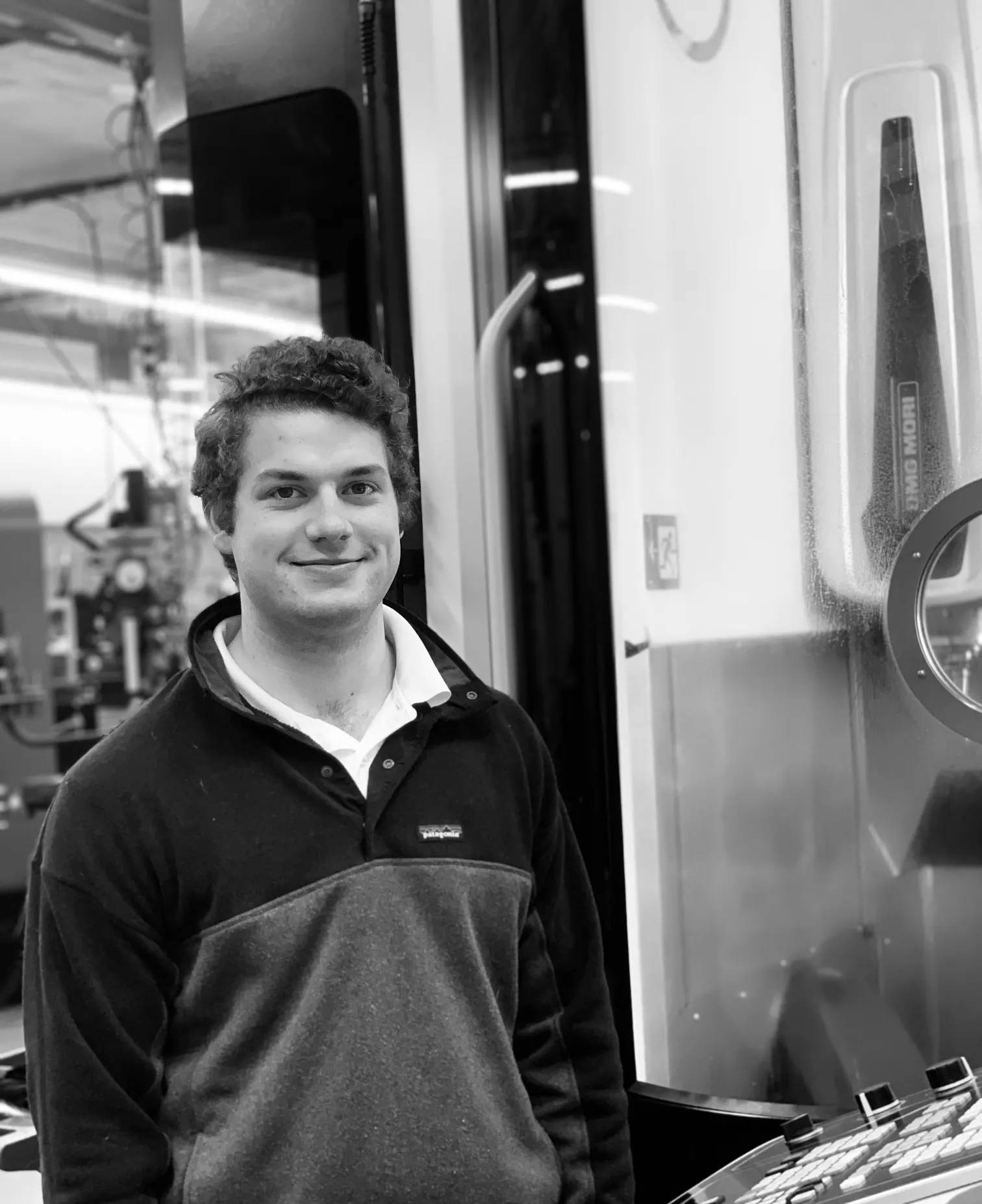 Brian Donovan grew up in Rhode Island, with a fascination for all things mechanical. Designing, creating, and wrenching have been Brian's greatest interests from a young age. He joined our manufacturing team as a CNC machinist after graduating from Wentworth Institute of Technology with a Bachelors of Science in Mechanical Engineering in 2020. He ventured into the CNC programming world during internships as a student, gaining experience in the aerospace manufacturing industry, where he developed a passion for programming precision machinery to produce the highest quality parts. In his free time, Brian enjoys working on cars and expanding his skills on projects like boatbuilding, and metalworking. brian.d@sevenstarmarine.net
Seven Star Marine Engineering is proud to maintain ISO 9001 certification.
The orientation of Seven Star Marine Engineering is to be recognized for quality in marine hydraulic systems, precision machining and manufacturing for the marine industry. 
This will be achieved through:




Making continuous improvement for each employee a part of everyday and every job




Satisfying customer requirements and any regulatory requirements necessary




Consideration of the context of our organization and outside factors impacting our work, sustainability, and growth




Monitoring and enhancing our customers' satisfaction




Ensuring that our policies and our quality manual reflect what we actually do




Careful selection of suppliers and dedication to strong vendor relationships




Tracking and investing in new technologies and providing education on these technologies to our employees




Understanding how each of our jobs fit into the overall flow of work at Seven Star Marine Engineering




Continuously upgrading our quality management system throughout all stages of work from customer inquiry to after sales follow up




Fostering a work culture and work environment in which every employee feels supported in their professional growth and motivated to produce their best possible results